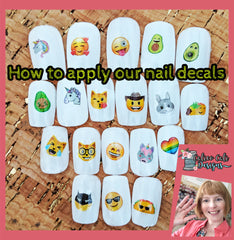 Our nail decals are easy to apply over regular nail polish, nail dips, gels and acrylics. 


To apply our nail decals:
1. Paint nails white or a light color.
2. Cut around your desired image as close as possible.
3. Soak it in warm water for 15-30 seconds and then the white paper backing will slide right off.
4. Put decal on your nail.
5. Gently pat dry with towel or cloth.
6, Apply quality top coat to seal and protect. ( minimum of 2 coats, re-apply every 2 days or as needed)

Note: White nail polish works best but other light colors will work.

Custom Made in the USA, by me!