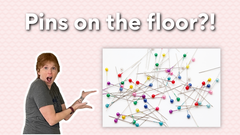 Watch this video and learn how to make your very own unique, one of a kind, personalized pin cushion using a wooden box from the Dollar Store, scrap fabric, and infusible ink!
This craft project is "sew" easy, and really fun to make. I had a blast picking out fabrics to match the infusible ink colors. Another option would be to skip the fabric part and instead, put in a small magnetic tray!
Changing out the fabrics and infusible inks can make each pin cushion unique. If you don't have infusible ink, you can paint the wooden box and add heat transfer vinyl. It would also be cute to add hot fix crystals. The embellishment options are endless!
If you love this tutorial, please share it with your friends. I appreciate your support.
Click HERE to watch the video.