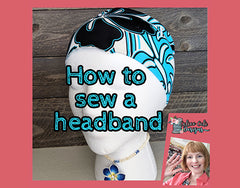 Are you looking for a fast and easy gift to make for teens this Christmas? I got you!
This sewing tutorial will show you how to sew a headband. These are seriously the easiest gift I've ever sewn. And they are extremely comfortable. I wear them all the time and never get a headache when I have them on.
They make a great gift for all ages really, not just teens. I like to use mine to hold my hair back when washing my face, and removing make up.
Sew these headbands and pair them up with some fancy lotions and you have a fast and easy gift that your family and friends will love!
XOXO,
Kat  :)