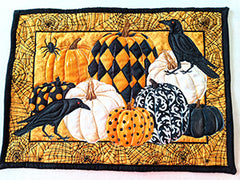 Are you ready for this easy quilted wall hanging tutorial!?
Fall is my favorite time of year, the crisp air, the beautifully colored leaves, candy, and of course Halloween!! Every year I make myself a new small Halloween themed quilt to hang on the wall of my studio. When quilting for myself I tend to stick to smaller projects that are faster to complete so that I have more time to spend on client quilts.
This year, I decided I wanted to quilt a fall or Halloween themed panel as I didn't really have the time to piece anything. I wanted a simple and fast project that I could turn into a quilted wall hanging.
The idea takes shape
So I headed out to my local quilt shop and I found fall themed place mats! They came as a set of four.  The moment I saw the sample hanging on the wall at Sew Many Quilts (located in Bend, OR) I 'knew' I just had to quilt it. 
I bought the panel, and cut it up into the four mats…and then I quilted two (one for my wall, and one to hang elsewhere). I saved the other two for another time.
In order to quilt them, I loaded both onto one black flannel backing then I dropped the belts on my Statler and free motion quilted them. It. was. so. much. fun.
Using matching thread, I traced over each line in the pumpkins, and stitched more definition into each of t
he raven's wings.
Stitching with orange thread I "outlined" the spiderweb border. Basically stitching in between the printed web lines.
You can really see the custom free motion quilting when you look at the back of the place mat wall hanging.
Let's embellish it
Once I was done with the actual quilting and binding, I wanted to add some bling to the quilt,  so that it would really catch people's eyes. If you know me in real life, you know how much I LOVE glitter. But it's not very feasible to add glitter to a quilt.
So I did the next best thing, and I took out my stash of hot fix crystals and my little hot fix crystal iron.
The perfect placement plan reveled itself after a few minutes of playing with different  crystal sizes and colors.
First, I added deep orange/reddish hot fix crystals to the eyes of each of the Ravens. I feel that the color contrast between the Raven and the crystal on it's eye really makes the Raven stand out better. 
I really love how the Ravens turned out. So next, I turned my attention to the pumpkins. The smaller pumpkin in the foreground already had black dots in it, which were begging to have crystals.  I didn't cover each and every dot, but I did add a bunch of black hot fix crystals on top of some of the dots.  Just enough to add some sparkle and draw your eye in.
Not wanting to over-do it with the crystals, I stopped there.  As much as I love them, I still wanted the quilting to be the overall star of the show. But the quilt still was not "done" there was one more section that I felt needed to be enhanced a bit.
The spider
The printed spider wasn't standing out enough for me and I wanted to embellish him. I did quilt him by outlining his body and tracing over each of his legs but he didn't stand out as much as the Ravens. He is small and got a bit lost with all that's going on in the quilt.
I wanted him to really pop and stand out.  I didn't want to cover him in crystals, and I thought about putting an applique on top of him. I toyed with the idea of a fuzzy fabric over his body, but that didn't seem to be what I was looking for.
Then I got the idea of a spider ring! I had a bunch of those inexpensive plastic spider rings in a drawer, leftover from a previous Halloween party. I cut the plastic "ring" part off and glued the just the spider part to an old pin back. Once dried, I simply pinned him to the quilt.
I love the end result
That little spider "ring" adds the right amount of 3D texture to the quilt. 
It magically completed the quilt and pulled the whole thing together.
That is how I turned a place mat into this year's Halloween themed quilted wall hanging! This is fast and easy project that you can do to! If you make one, share photos with me on Facebook!
Here is a glimpse at the quilt hanging on the wall in my studio. It matches my coffee cup nicely, if I do say so myself.  I hope you enjoyed this post. 
XOXO,
Kat