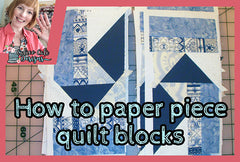 Let's be honest, sometimes when making quilt blocks it can be hard to not loose some of your points. It happens to the best of us. The tips of those triangles just don't play nice sometimes.
With paper piecing you actually sew the fabric directly onto paper...and it really helps with those points!
Watch the video below and learn just how easy paper piecing is, and watch those points become perfect.