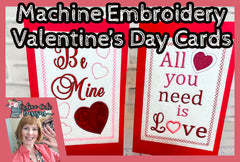 Do you need a greeting card for an upcoming wedding or Valentine's Day? Did you know that you can make one with your embroidery machine?
This tutorial will show you just how easy it is to create your own unique card using our Valentine's Day Greeting Card embroidery designs.
You will be loving how easy and fun these in the hoop cards are to stitch out.  And your family and friends will be delighted when they receive one. Spread the love this year with these machine embroidery designs. These designs are also perfect for wedding gifts, and anniversary gifts!
Picture the XOXO card stitched out on ivory card stock…and given as a gift. It would be so beautiful.
Or the I love you card as part of an anniversary present.
The Be Mine card has an applique heart in it. You can personalize it by using your favorite fabric for the heart.
I like to embellish the cards using confetti, or sequins and beads. Watch to the end of the video to learn how to embellish the cards like in the photo above.

XOXO,
Kat