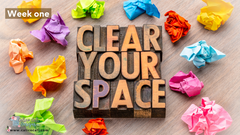 Welcome to my 8-week series on organizing your crafting space. Maximize your crafting potential with these budget-friendly organization hacks.
I'm sure you can guess that the first thing that I'm going to suggest is donating and getting rid of items you will not use. This includes UFOs that you can't see yourself finishing. 
But you don't have to do this all at once. Take it one week at a time. As you read the tips each week, see if there is something from that week's topic you can donate or pass along to someone else.
Also, and I say this in real life a lot, "You. Do. You". This is YOUR space, so make it work for you. This is a judgement-free zone. If you like it and it makes you happy (as long as you are not breaking the law), then go for it!
Now...onto this week's tips!
Have a permanent home for notions and other smaller items. For example, all of my pins go on a certain shelf. When I'm done with the pins, they return to their shelf. That way, the next time I need to use pins, I know exactly where to find them. Use the mantra "Don't put it down. Put it away".
Some of the things that I utilize in my studio for storing notions and other small items in are:
* Decorative trays: I use this to store my bobbin casings, scissors, tweezers and other notions I use a lot when I'm quilting. They are right next to my machine, easy to grab, and it looks neat and tidy. Not to mention the tray is super cute. 
* Stash 'n store: I love stash 'n store so much that I have two in my studio and one in my office. Each one holds a variety of pens, pencils, tweezers etc.
* Drawer organizer trays from the dollar store: I use these to hold needles, rulers, tools, pins, and safety pins. You'll notice in the photo that I've used a lid organizer to form a shelf so that I could fit more trays in this space.
* Consider storing your scissors in a silverware caddy.
It's portable, so you can carry the caddy from the sewing table to the cutting table, and all of your scissors are in one spot. No more searching under piles of fabric trying to find them.


 * Store buttons in a nuts and bolts container. It has individual pull-out drawers and can even be mounted to a wall. I bought mine at a local hardware store.
I particularly like how the drawers are clear so that I can see what is stored inside of them without having to pull every drawer out.
My buttons are sorted by color, so it's faster to find what I need for each project.
I enjoy having plants in my space (these are faux plants because I do NOT have a green thumb). I like the pop of color they bring to the room, and I pair them up with other decor items. While the plants don't have anything to do with organizing, they make my space feel calmer.
That's all of the tips for this week. Sorting buttons should keep you busy for a few days :)

Come back next week for tips on storing fabric.

Happy sorting!
-Kat