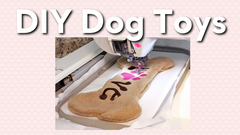 Need a one of kind toy for your dog? Watch this video to learn how to make your own DIY dog toys using our In The Hoop embroidery designs!
Your dog will love these bone shaped dog toys! Each of these dog bone toys stitches out in approximately 30 minutes.
These in the hoop toys make pur-fect gifts for new puppy owners! Imagine them in a gift basket with a new collar and some doggy treats. 
I have two dogs, a young puppy and a senior dog and both of them love these bone shaped dog toys. When making them, I use a soft fleece for the fabric, and I often add a squeaker on the inside too! 
Remember to always supervise your dog when they are playing with toys.