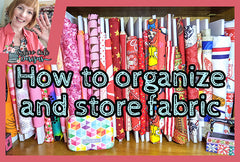 I store my fabric in a china cabinet. The glass doors keep dust out, and at the same time, they let me see what's inside. I love walking into my studio and seeing a rainbow of fabric. What I didn't like, was how messy the fabric looked inside the cabinet.
Click to watch how I updated my china cabinet...or read on.
I had originally wrapped the fabric around flat pieces of cardboard. That worked great at first...but overtime the cardboard got slouchy and bent. The fabric just looked sloppy.  I was embarrassed for my longarm customers to see my fabric in such a disorganized state. But then I had a new fabric storage idea.
So I sprang into action and went straight to my local Dollar Store where I bought lots of foam boards. I also bought some foam boards at Walmart...honestly, I prefer the Walmart ones as they are a bit more sturdy...but the Dollar Store ones do work.
After removing all of the fabric from the cabinet I then measured the space for each shelf inside my china cabinet and got to work cutting down all of the foam boards so that they would fit inside.
I unwrapped the fabric from the sad saggy cardboard and then re-wrapped it piece of fabric around a new sturdy cut to size piece of foam board. I honestly enjoy folding fabric, it find it helps to reduce stress. There is just something comforting about petting fabric!
Here is what my china cabinet shelves look like now after implementing this fabric storage idea!!!  Sooo pretty and inviting. It is easy to see what color fabrics I have and they look so nice and neat.
I should mention that this cabinet is stored in a spot where the sun does not shine directly on it, so I do not have to worry about fading.  If you decide to use a cabinet with glass doors and it faces the sun, then you might want to consider putting a UV protecting film on the glass.  The film is very easy to self apply. (We have installed it on the windows of our house).
XOXO,
Kat